Every month curators of the Asia and Pacific Museum carefully select one object representing various parts of our new permanent exhibition Journeys to the east through the cultures of the Middle East, Central Asia, Mongolia and Indonesia.
In May we pay particular attention to an Indonesian fabric – batik. This month's Exhibit of the Month is a spacious rectangular piece of cotton fabric with a rich pattern obtained in the batik technique. In Java, such a fabric is a complete women's or men's skirt, draped over a figure. It is wrapped around the waist twice (and the excess material forms a wide vertical fold) and is held up by a wide fabric belt.
Typical for Java is the technique of decorating – batik, in this case batik tulis – hand-made batik.
The pattern is applied as if in the negative: those fragments of the fabric that are to remain in the natural white or cream color of cotton are covered with liquid wax, while those not covered with wax will take on the color, because the fabric is immersed in the dye. Then the wax is removed. If two colors are to be made, the steps are repeated. Batik is a double-sided fabric with identical patterns on both sides and an equal degree of color intensity. It is so because the wax is customarily applied on both sides of the fabric. In the case of hand-made batik, a special tool called canting is used – a pen in the form of a miniature copper funnel embedded in a bamboo handle. Handmade batiks are extremely labor-intensive.
The background of this fabric is navy blue (indygo) and the pattern is white. Lack of brown (soga), typical of Central Javanese fabrics. Thus, only one dyeing was performed. The entire surface of the fabric is covered with a jilemprang motif of eight-pointed rosettes contained in circles. It is an imitation of the pattern on Indian decorative fabrics called patola, made of silk in the complicated technique of double ikat (warp and weft ikat), for centuries imported to Indonesia from Gujarat. In Indonesia they were valued so highly that they became royal regalia and were kept for many generations. The jilemprang pattern in Java was at one time reserved for the Susuhunan (sultan) of Surakarta (Solo) and his family. Jilemprang on this fabric has been made in the nitik style – it is composed of dots (dotted lines) as if it was a result of weaving.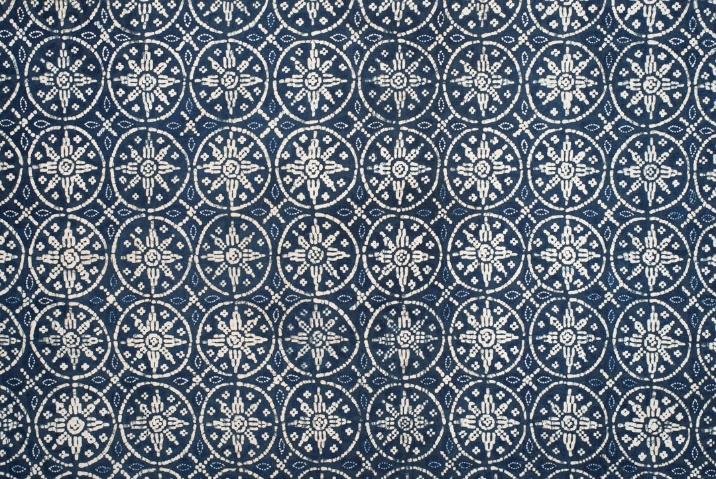 Fabric – batik
Indonesia, Central Java, 1st half of the 20th century
batik on cotton (batik tulis – hand-made batik), dyeing
H 106 cm, W 238 cm
Inv. number MAP 1352)
gift from Andrzej Wawrzyniak, 1973 – from the founding gift