Object from the Khanenko Museum in Kyiv
Object from the Khanenko Museum in Kyiv
Due to the dramatic situation in Russia-invaded Ukraine, we are trying to support Ukrainian museum professionals and curators.
As a gesture of solidarity, we will present objects from the rich collection of the Khanenko Museum in Kyiv, an important part of which are collections of Asian art: Chinese, Japanese and Tibetan, and of Islamic art from Iran, Turkey and Central Asia. Every Sunday, we will introduce you to one selected object from The Khanenko Museum's collection with the hope that we will be able to see it with our own eyes once the war is over. Today we present item from the Middle East.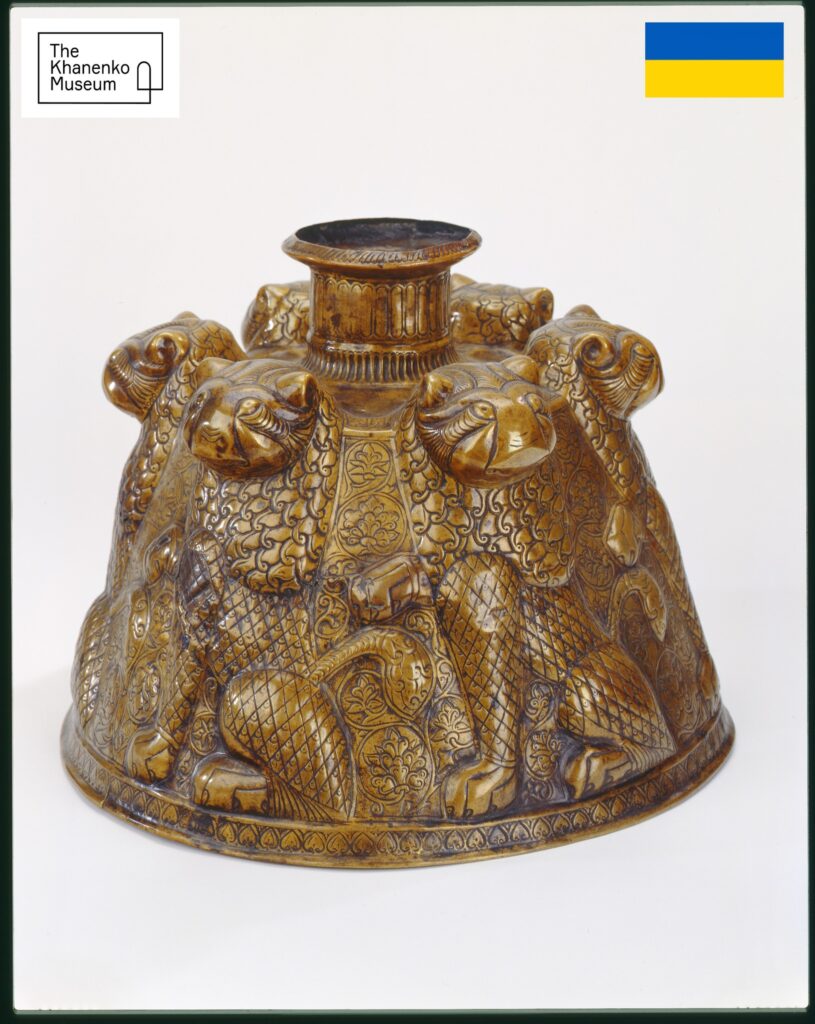 Candlestick base
Iran or Eastern Anatolia (?)
First half of the 13th century
Copper alloy (brass); forged, engraved
Height: 26 cm
150 БВ
This unique floor candlestick from the Khanenko family collection was designed to hold one large candle and illuminate large room, an outdoor terrace, or a garden during night parties.
The body of the object is forged from a sheet brass – the most popular copper alloy in the medieval Islamic culture. Six large, profiled lion figures in high relief with their heads en face alternate with a twisted sprout with palmettes. Islamic craftsman masterly used the technique of two-sided minting for finest treating animals' muzzles, mane and fur. On the shoulders of the candlestick base between the heads of lions there is a traditional Arabic inscription reading: "Glory, success, power, happiness to the owner of this."
A lion is an ancient Iranian symbol of royal majesty, power and triumph. In astrological and astronomical aspects lion is related to the Sun. Thus, the pattern of the candlestick embodies wishes of the highest cosmic patronage for the present-day owner of the extraordinary item: the people of Ukraine.
#StandwithUkraine