Object from the Khanenko Museum in Kyiv
Object from the Khanenko Museum in Kyiv
Due to the dramatic situation in Russia-invaded Ukraine, we are trying to support Ukrainian museum professionals and curators.
As a gesture of solidarity, we will present objects from the rich collection of the Khanenko Museum in Kyiv, an important part of which are collections of Asian art: Chinese, Japanese and Tibetan, and of Islamic art from Iran, Turkey and Central Asia. Every Sunday, we will introduce you to one selected object from The Khanenko Museum's collection with the hope that we will be able to see it with our own eyes once the war is over. Today we present a painting by a Chinese artist: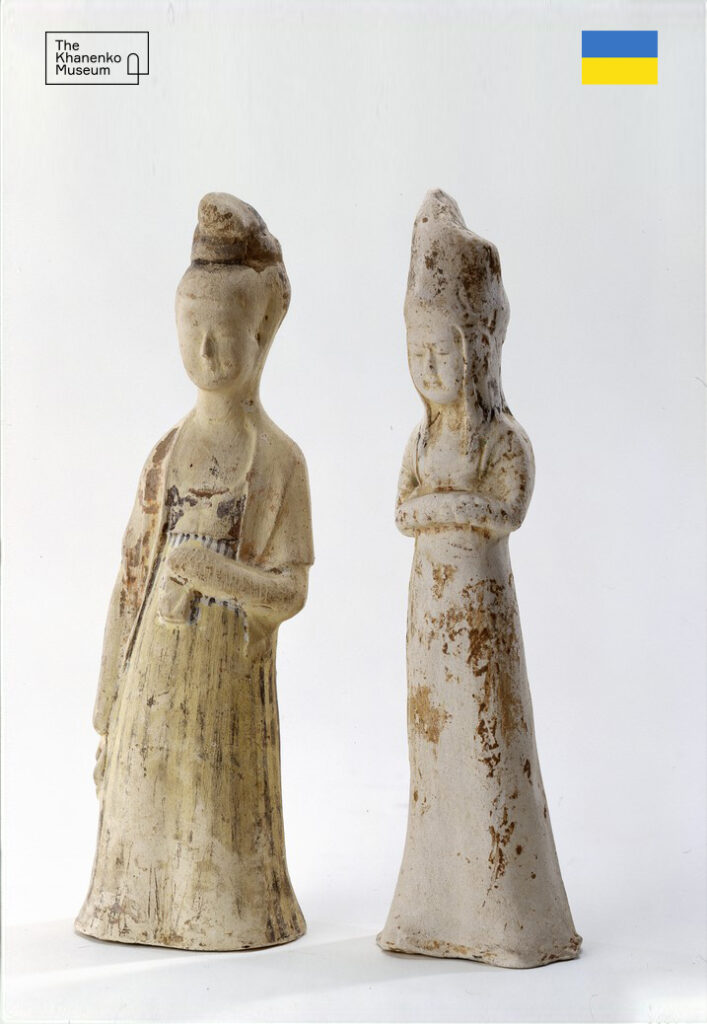 Female figures
Artist of the Tang epoch (618–907)
China
Pigment on earthenware
h – 27 cm
Inv. 607 ДВ
From the Khanenkos' collection
The history of classical China is full of famous women, such as warriors Fu Hao and Pingyang Gongzhu, rulers Lü Zhi and Wu Zetian, political figures Huang Furen and Shangguan Wan'er, poets Xue Tao, Yu Xuanji and Li Qingzhao, artist Guan Daosheng, calligrapher Cao Zhenxiu, composer Cai Wenji, embroideress Han Ximeng and many others.
One can only guess how they looked in real life, since in Chinese portraiture likeness did not play such a significant role as in European. Similarly to Greeks in the Classical period, Chinese prefered to depict people in a generalised manner, rather than render each individual's unique features.
Chinese artists represented women in accordance with a certain era's aesthetic canons and fashion. For instance, during the Tang period (618–907), from which the two figurines in the Khanenko Museum's collection date, women were shown with "moon-like" roundish faces, little noses and mouths, and elaborate high hairdos. They were clad in sumptuous high-waisted garments and long-sleeved blouses.
These images are compelling in their elegant simplicity, while the remnants of paint invest them with a special charm and underscore their timeless beauty. The Tang era marks a heyday of Chinese culture, particularly arts and crafts. This resulted from cultural exchange with other countries, which had been facilitated by the stabilisation of borders and revival of trade. Today Ukraine is enduring hard times caused by Russian aggression. However, we believe in our victory and hope that it will bring about the stabilisation of our country's borders, restoration of all trading operations, and new opportunities for cultural exchange between Ukraine and the world.
Ukrainian women are taking an active part in the defence of Ukraine. Similarly to the legendary Chinese women mentioned above, they are protecting their country, engaging in politics, winning sports competitions, providing medical help, rearing children, creating literary works and pieces of art, and preserving cultural heritage.
#StandwithUkraine