home

/

Movement as a form of life. Encounters and transformations in the spaces of Asia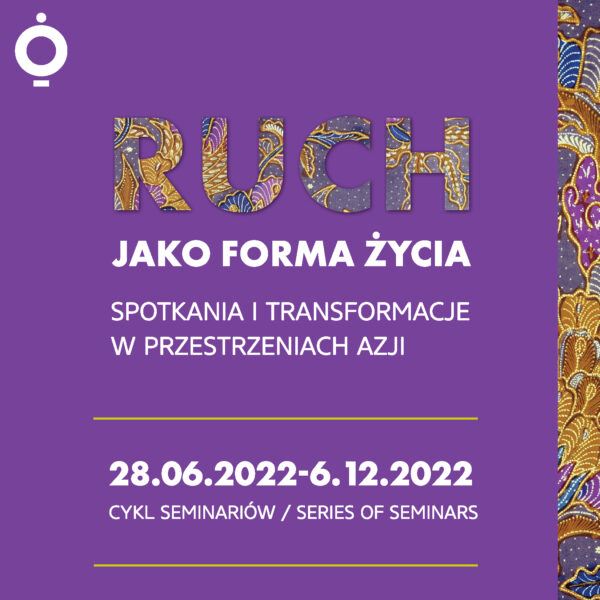 Movement as a form of life. Encounters and transformations in the spaces of Asia
28.06.2022 - 6.12.2022
WSTĘP: Free entrance
CYKL: Movement as a form of life. Encounters and transformations in the spaces of Asia
Movement as a form of life. Encounters and transformations in the spaces of Asia is a series of seminars organised in collaboration between the Andrzej Wawrzyniak Asia and Pacific Musuem and the Comission on Asian Studies at the Comittee for Ethnological Studies, PAS, with financial support from the Polish Academy of Sciences.
The seminars will take place durinf the first six monts after the opening of a new permanent exhibition entitled Journeys to the East. The exhibition will take visitors through the cities of the Silk Road, under the arches of the bazaar, into the yurts of Mongolian shepherds and around the Javanese pendhapa pavilion. In this new exhibition, the museum presents nine hundred of the most valuable objects from Southwest Asia, Central Asia, Mongolia and Indonesia.
Each seminar will focus on a different region of Asia presented in the exhibition, and one of them will focus on museum work and exhibition practice itself. We asked the lecturers to focus on change, on movement, on the mobility of people, objects and ideas.
Programme:
Tuesdays, 6 P.M,
28.06.2022
Prof. Jerzy S. Wasilewski (Polish only)
KOCZOWNICY, NOMADZI, MOBILNI PASTERZE. ZMIANY W KULTURZE, ZMIANY W BADANIU.
04.10.2022
Dr. Fiona Kerlogue (in English)
COLLECTING CHANGE: JOSEF śROGLS IN DUTCH EAST INDIES 1894 – 1924
25.10.2022
Prof. Jadwiga Pstrusińska (Polish only)
O WĘDROWANIU TAJNYCH JĘZYKÓW W EURAZJI
29.11.2022
Magdalena Zych (Polish only)
SZKŁO Z HERATU. RZEMIEŚLNICY, ŚWIATŁO I MINERAŁY CZYLI RUCH W ŻYCIU MUZEALNEJ KOLEKCJI.
06.12.2022
Małgorzata Biczyk, Dr. Philipp Reichmuth (in English)
PROJECT ASPHALT – LINES & LIVES. CONTEMPORARY ART OF CENTRAL ASIA THROUGH THE EYES OF ARTISTR AND CURATORS
Free entrance!
For further information please download an informational flyer.